Precious metals were little changed on Thursday, with a fairly lacklustre performance from gold, silver and platinum. Palladium, however, was still gaining, providing a glimmer of optimism for investors.
All eyes were on the European Central Bank (ECB) today as speculations of the end of its bond-buying programme surfaced, which will lead to a withdrawal of stimulus measures from the market.
Investors were also looking forward to the US retail sales data for March, which is expected to be lower than expected this time, as well as US consumer sentiment data, which is considered a key indicator for gold trading prices.
Spotlight on individual metals
In London morning trading, gold inched down 0.26% to $1,972.49 per troy ounce (t oz) as investors shifted their focus to riskier assets, shrugging off concerns of a looming interest rate hike by the US Federal Reserve (the Fed) as the US dollar and Treasury yields eased as well.
Silver dipped by 0.56% to $25.56/t oz as investors were cautiously optimistic about the Russia–Ukraine situation improving as US President Joe Biden revealed the US will send military help worth an extra $800m to Ukraine.
US 10-year treasury yields dipped 3.3 basis points (bps0 to 2.671%, having dropped by more than 6% in the past couple of trading sessions as the market slowly adjusts to higher-than-expected inflation.
Platinum dropped by 0.85% to $977.77/t oz, easing away from the $1,000/t oz range seen recently as supply concerns from Russia eased somewhat, with investors looking at other major producers, such as South Africa, for supplies.
Palladium climbed up by 3.52% to $2,376.34/t oz, further extending gains following the banning of the Russian Krastsvetmet and Prioksky plants by the London Platinum and Palladium Market (LLPM) as Japan's Osaka Exchange was reported to be contemplating a similar move.
Copper gained by 0.23% to $4.71 per pound following Peru announcing it will soon be imposing higher taxes on excessive profits earned by mining companies. This led investors to fear that mining giants may look elsewhere, thus leading to an even tighter copper market in the short term.
Aluminium further extended losses, falling by 0.31% to $3,233.26 per tonne following a dip in physical premiums for Japanese April–June shipments. This highlights a loss in demand from one of the biggest consumers of the industrial metal.
Nickel rose by 1.68% to $32,994 per tonne as the Chicago exchange recently stepped in to fill the gap left by the London Metal Exchange (LME), hence smoothing out some of the kinks plaguing nickel trading recently and leading to increased demand once more.
What is your sentiment on Platinum?
Vote to see Traders sentiment!
Chart of the day: Bullish momentum returns to precious metals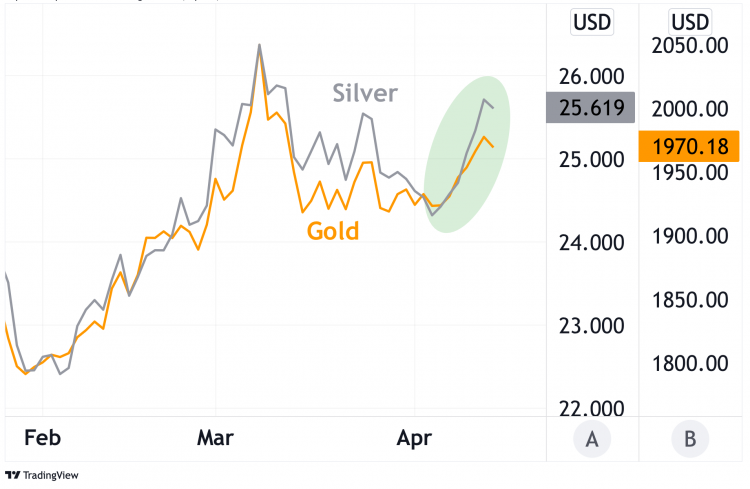 Bullish momentum returns to precious metals – Credit: TradingView
5 things to know about metals today
Gold: Ruffer (LSE:RICA), a UK investment firm, has recently announced that it would be increasing its exposure to gold.
Nickel: Talon Metals (TSX: TLO) has recently announced it has increased exploration at its Minnesota nickel project.
Iron ore: The Indian Supreme Court has recently revealed that it has consulted the steel ministry regarding the Karnataka iron-ore export ban.
Aluminium: Shanghai-listed aluminium grain refiner MQP has recently won an international business award for innovation.
Copper: Ivanhoe Mines (TSX: IVN) has recently announced that it has had record output from its Congo mine.
Mining stock performance
Related reading