Irish silversmithing dates back 4,000 years. By the 8th century, Dublin acted as a hub of organization for goldsmiths and silversmiths, raising the standards of the craft overall.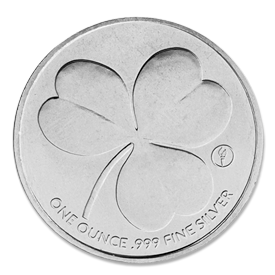 Today Money Metals combines the ancient tradition of Irish silver with our own great tradition – bringing precious metals investors the most metal for their money!
Released to the public this week, our privately minted Irish Shamrock .999 silver round brings you hold-in-your hand silver without the high premiums of legal tender coins produced by government mints.
This means significant savings for you, especially as compared with American Eagles.
Our Irish Shamrock round features timeless designs closely associated with the Emerald Isle…
On the obverse is the shamrock – an emblem of St. Patrick, said to represent Faith, Hope, and Love – along with the inscription ONE OUNCE .999 SILVER and the Money Metals mintmark.
The reverse features the celtic cross, each arm bearing an Irish trinity knot, along with the inscription "Eire Go Brach" and its English translation, "Ireland Forever."
This new release from Money Metals gives bullion investors and silver stackers another beautiful and classic design option in .999 silver.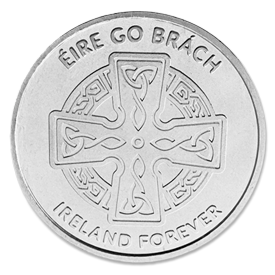 Perhaps you'll choose the Irish Shamrock round to honor your own Irish roots…
…to add variety and visual appeal to your silver stash…
…or simply because it represents a time when honest trade relied on genuine precious metals with their own intrinsic and indestructible value, not paper notes and fiat currency issued by political powers-that-be.
Act now and be among the very first to acquire Money Metals' exclusive Irish Shamrock .999 silver round.
Visit MoneyMetals.com now to make your selection… and remember that as soon as the total value of your cart reaches $500 or more, shipping is FREE!
---
!function(f,b,e,v,n,t,s)
if(f.fbq)return;n=f.fbq=function()n.callMethod?
n.callMethod.apply(n,arguments):n.queue.push(arguments);
if(!f._fbq)f._fbq=n;n.push=n;n.loaded=!0;n.version='2.0′;
n.queue=[];t=b.createElement(e);t.async=!0;
t.src=v;s=b.getElementsByTagName(e)[0];
s.parentNode.insertBefore(t,s)(window,document,'script',
'https://connect.facebook.net/en_US/fbevents.js');
fbq('init', '544769216952833');
fbq('track', 'ViewContent');