Did you know that BullionStar has now launched in the United States, offering a wide selection of investment grade precious metals bars and coins for secure vault storage and delivery?
When you buy gold and silver with BullionStar US online, you can choose to have your precious metals delivered free to anywhere in the US, or else have your previous metals securely and discreetly stored in our high security precious metals vault in Texas.
If you choose to buy and store, all precious metals purchase orders for US vault storage will receive the first year of vault storage absolutely free.
Opening a BullionStar account is quick and easy and can be completed in just a few minutes here.
One Year Free Vault Storage
Yes, with the launch of BullionStar in the United States and our dedicated US website BullionStar.us, we are now offering customers 1 year of vault storage absolutely free from the date of your first precious metals purchase, for vault storage in our secure vault in Dallas, Texas.
Following the first year, our storage fee structure is among the most competitive in the industry at 0.39% per annum for gold bullion storage in the vault, and at 0.49% per annum for silver and platinum bullion storage in the vault.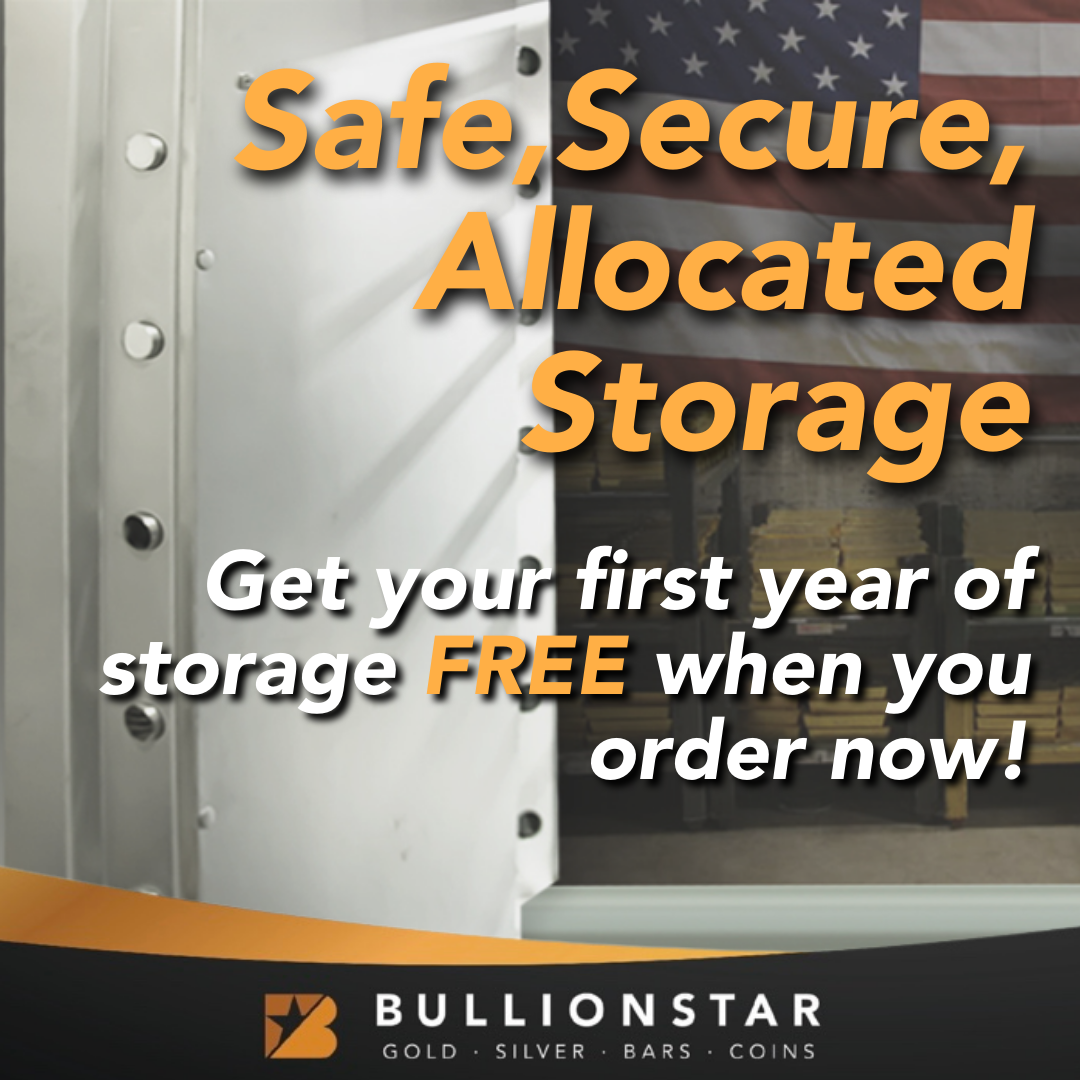 One year of free US vault storage applies to both new and existing BullionStar customers, including customers who already store precious metals with BullionStar in Singapore and/or New Zealand. The one year period begins from the first day of storage in the US vault.  
Vault Storage Texas – BullionStar's High Security Vault
BullionStar's precious metals vault is located in Dallas, Texas, and is independently run by our vault partner International Depository Services (IDS) of Texas. IDS handles all physical transactions and storage of bullion. IDS is a full service precious metals depository which offers secure storage to both individuals and institutions.
The secure vault in Texas is a Class III UL-Rated vault offering uncompromising surveillance and round-the-clock security with multi-redundant security systems. A UL-Rated Class III vault is the highest burglary resistant rating of any commercial or financial institution vault.    
In addition, our vault in Dallas, Texas is monitored in real-time by off-site security specialists, as well as on-site armed police officers. IDS of Texas is located at 11925 N. Stemmons Freeway, Dallas, Texas, close to Dallas / Fort Worth international airport.
Full Insurance Coverage
All customer precious metals stored in BullionStar's secure vault in Texas are fully insured against all risks at full replacement value. The insurance coverage is underwritten by Lloyds of London, the world's leading provider of specie insurance for the bullion industry and for high value real assets.
BullionStar's insurance policy covers all precious metals, cash and other property, and you will never bear any risk whatsoever for any loss or damage of your stored precious metals.
The preeminent security classification of our vault allows us to receive low insurance premiums, which we pass on to our customers in the form of some of the lowest bullion storage rates in the industry.
In contrast to BullionStar's amazingly comprehensive insurance coverage, note that safe deposit boxes offered by banks in the United States are neither insured nor covered by FDIC deposit insurance.
Five Different Audit Methods
BullionStar employs the most comprehensive precious metals auditing procedures in the bullion industry, with no less than five different audit methods to ascertain and verify the existence and correctness of your stored bullion. These five audit methods are as follows:
Physical Customer Audits: BullionStar storage customers can schedule an in-person physical audit of their stored precious metals at our vault in Dallas, Texas.  
Third party Audits: BullionStar employs leading LBMA-approved auditor Bureau Veritas to physically verify the existence of all customer bullion in the vault, randomly select some bullion bars and match their serial numbers against the Live Audit Report, and also weigh a random sample of bullion bars against their expected weights.
Live Audit Report: The Live Audit Report is a real time extract from BullionStar's vault inventory system which anonymously lists all vault holdings per bullion product type for all customer vault accounts.
Internal Audits: BullionStar conducts frequent internal stock enumerations to ensure that all bullion stored in the vault is meticulously organized, counted and documented.
Financial Audit: BullionStar undergoes a full financial auditor by a licensed auditor on an annual basis, part of which comprises a physical stock inventory.
Legal Ownership and Fully Allocated and Segregated
When you buy physical precious metals bars and coins online with BullionStar and store them in our secure vault, you have full legal ownership of your bars and coins, and these items are fully allocated for you in the vault, and segregated from bullion inventory owned by BullionStar.
Every customer account has a unique vault certificate which lists all bullion items held in vault storage for that account. This vault certificate is proof of your direct legal ownership of your fully allocated precious metals.
Your vault certificate is updated for every new buy or sell or withdrawal transaction which affects your vault holding, and your vault certificate can be downloaded online at any time.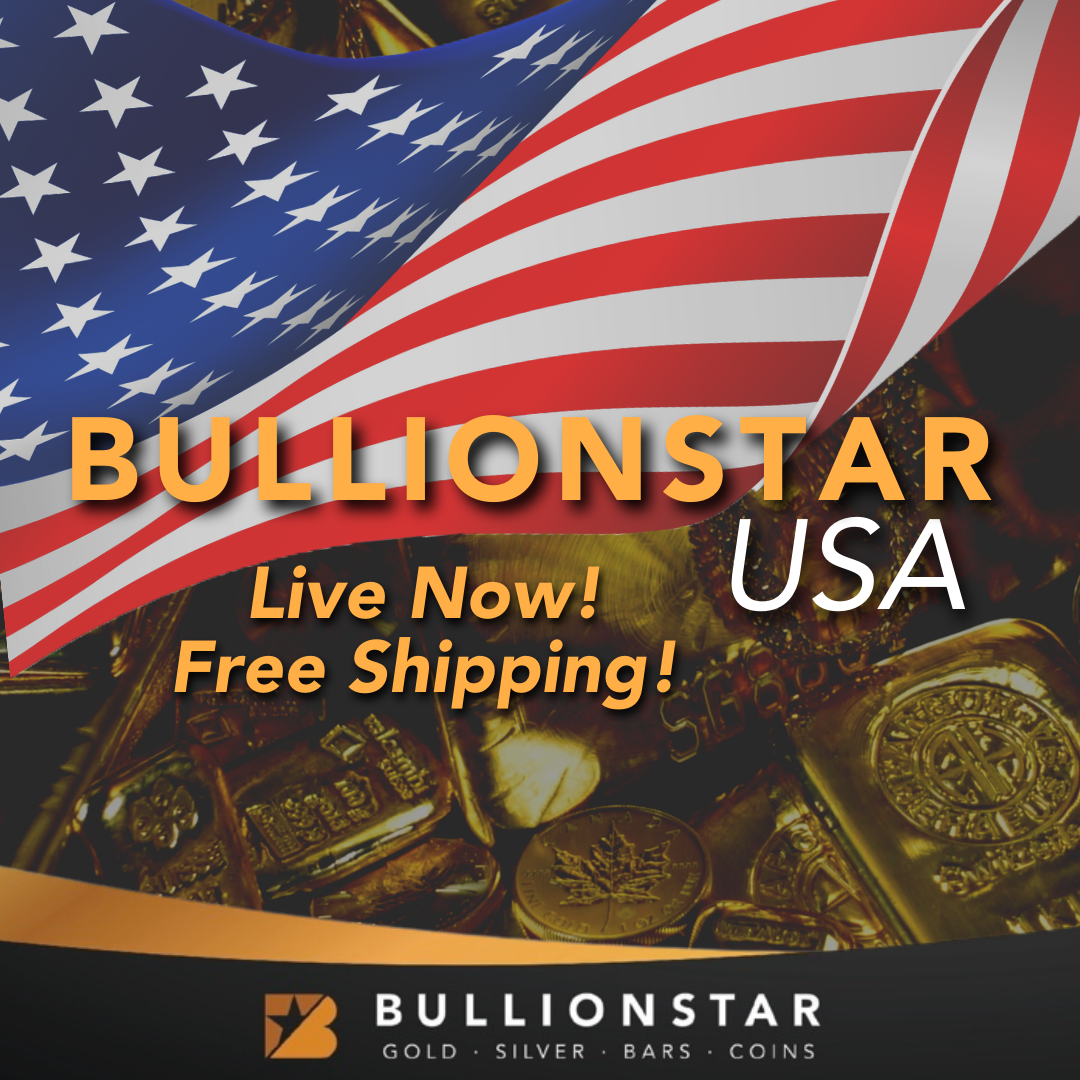 Full Online Control of Your Bullion
With a BullionStar account, you have full 24/7 access to our online bullion platform, on which you can buy and sell gold and silver bars and coins for storage or delivery, and monitor the gold price and silver price.
With a BullionStar account, you have complete 24/7 control of your vaulted bullion. BullionStar's Cash and Bullion Dashboard provides a simple and visual snapshot of your cash and bullion holdings in a wide array of major currencies and cryptocurrencies.
While logged in to your BullionStar account, you can also audit your bullion, view pictures of your bullion, sell your vaulted bullion, and withdraw your holdings from storage. You can furthermore download your vault certificate, inspect BullionStar's vault insurance certificate, and inspect our independent third party auditor's reports.
Opening an online account with BullionStar is a straightforward and simple process and only takes minutes.
Processing Your Bullion into the Vault
Buying precious metals for vault storage in BullionStar's Texas vault is very straightforward. Simply select your desired bullion and go to the Checkout. Select "Vault Storage United States" in the Delivery dropdown.
Payment options include domestic USD bank transfer within the US, ACH transfers, international USD bank transfer, online credit card, international foreign currency bank transfers in EUR, SGD, JPY, GBP, AUD, NZD, or SEK, and you can also pay with BTC, ETH, LTC and BCH.
BullionStar and its vault operators process and handle all bullion under camera surveillance with all bullion signed for by two administration officers. BullionStar inventory and customer metals are completely segregated.
Additionally, for all customer orders processed into vault storage, a photo is taken of your bullion, with the serial numbers visible, together with your printed order confirmation.
These pictures are uploaded to your account online, so that you can view the images, identify your bullion, and check that the serial numbers are matching the serial numbers on your invoice.
Selling and Withdrawing Stored Bullion
You can use your BullionStar account to sell or withdraw your bullion anytime 24/7. For vault withdrawals, you can either opt for delivery to your address, or opt for personal collection at our Dallas vault.  
If you withdraw precious metals from our vault for delivery to your address, your bullion shipment is fully insured for full replacement value, with BullionStar bearing the risk of your shipment right up until you have collected your parcel(s).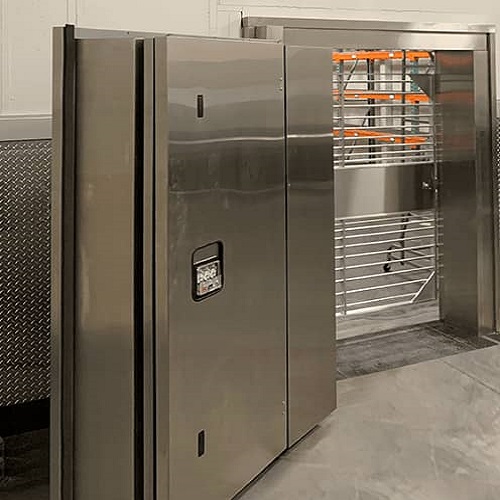 Diversify across Jurisdictions
As a customer of BullionStar US, you can also diversify your bullion storage across BullionStar's other global storage locations namely Singapore and New Zealand. This multi-jurisdictional storage approach lets you store your bullion in up to 3 locations globally, similar to how many central banks diversify their gold storage over a number of countries.
To buy precious metals for storage in BullionStar's other storage locations, just change the stock location to either Singapore or New Zealand while on the website.
Independent US Vault – Outside the Banking System
Note also that with BullionStar's secure storage vault in Texas, your precious metals are stored completely outside the banking system. Contrast this to storing bullion bars or coins in a safe deposit box in a US bank, in which case your precious metals are fully within the banking system, and are exposed to all the risks which that entails. 
As well as lack of insurance coverage which leaves your valuables vulnerable to loss, theft or damage, safe deposit boxes are only accessible during banking hours, and in the event of a financial crisis, commercial banks' safe deposit boxes could become inaccessible.
Risks of Home Storage
Storing your precious metals with a professional storage provider eliminates the risks of storing your high value bullion at home. Home storage is fraught with risks. At home (e.g. attics, basements, sheds, workshops, buried in the garden), your gold and silver bars and coins are exposed to possible damage or theft, and insurance coverage may be limited or not even offered, depending on your home and contents policy.
Furthermore, if you store your metals at home, you may not be able to sell or liquidate them at short notice. In comparison, if they are stored in a vault such as BullionStar's vault in Texas, you can sell your precious metals in an instant online with just a few clicks of a button.
The Choice of Texas
Texas is one of the most precious metals friendly US States for buying and storing investment precious metals bars and coins.
As well as symbolizing the American values of independence and liberty, Texas is a strong supporter of privacy and the protection of property rights and individual rights. 
The Texas constitution recognizes the right of individuals to own and control their private property, and Texas also has a strong rule of law and is known for a respect for law and order as well as a conservative regulatory environment.  All of which are especially important when storing precious metals.
Tax Free Bullion – No Sales Tax
Texas has no sales taxes on gold or silver. This means that when you choose to buy precious metals bars and coins online at BullionStar.us and store your bars and coins in BullionStar's secure vault in Texas, there are no sales taxes to pay, no matter where you live in the Unites States.
Conclusion
BullionStar is an established and successful international bullion dealer, which is modern and technologically innovative, and which has a proven track record of providing high-quality gold and silver bars and coins and secure vault storage to customers around the world.
We are a bullion dealer of the people, for the people. Over the years, we have fulfilled over US$ 2 billion worth of gold and silver orders.
Now BullionStar is offering these same products and services in a dedicated offering to the US market with a dedicated secure vault in Dallas, Texas.
If you choose BullionStar as a secure storage provider, your first year of vault storage in Texas is absolutely free, and after that our storage fees are some of the most competitive in the industry, making the storage of your precious metals not only secure, but affordable.
All bullion stored in our Texas vault is fully insured and underwritten by Lloyds of London.
All bullion is also fully audited via five audit methods, arguably the most comprehensive bullion auditing in the world. And you have full online control of your bullion 24/7 via your BullionStar account.
When it comes to buying and storing physical precious metals in the United States, BullionStar's secure vaulting service ticks all the boxes on security, safety and reliability, all accessible through a modern, user friendly and flexible bullion platform.